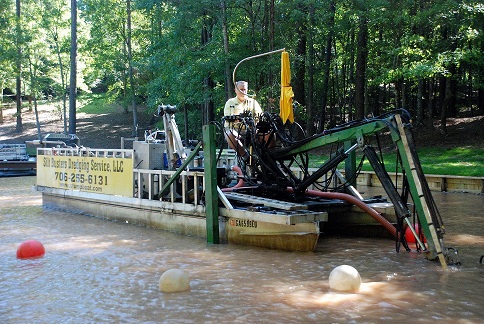 Shallow water is not a problem until you climb in your boat and can't go anywhere, or want to install a boat lift but don't have enough depth to make one work.
Dredging is simply the process of making shallow water deeper.
With our equipment, we can prepare an area for jet ski lifts, dredge around a dock, or make the water deep enough for a boat lift. We can also dredge a deeper approach channel or turn-around for your boat(s).

Because this equipment floats, no big, heavy machine is driving around tearing up your shoreline; because it can pump the material inland, there is no need to make a messy pile a few feet from the water's edge. This is the neatest, cleanest way to do a really messy job!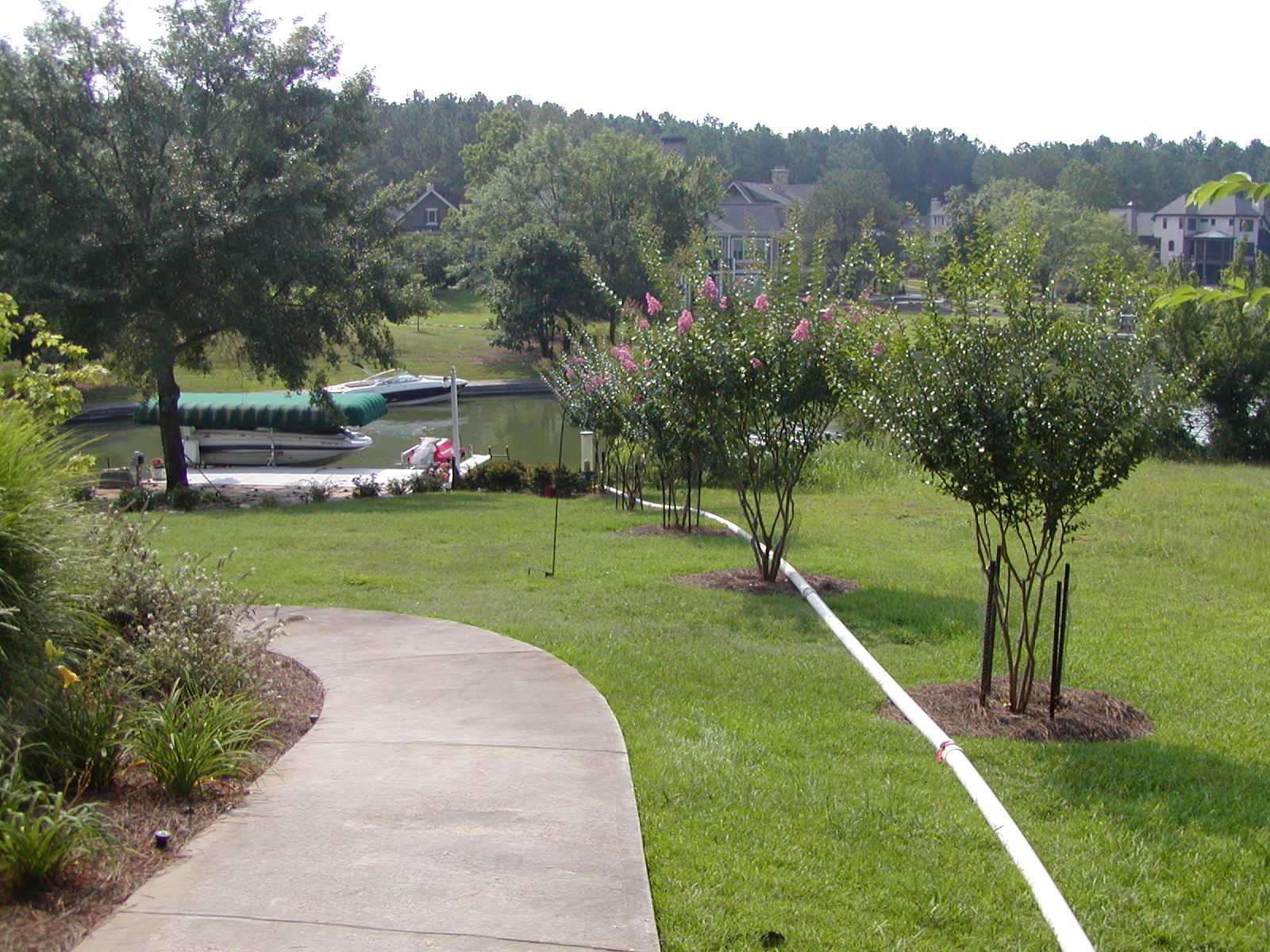 Many times, with some basic information and the assistance of the internet, we can provide a "round number estimate" over the phone, but a site visit will be required before a firm contract is drawn up. The following questions will need to be answered before a job can be quoted:
What is the approximate length, width and depth of the area to be dredged?

We can do the measuring, but will need general instructions, or give us the ones you estimate. Start this process by helping us understand what your goal for the finished job.
How hard is the bottom? Is it primarily soft sediment, or hard pan? Where is the nearest best place to pump the silt? Is there a place it can be used on site, or must it be hauled away?

Depending on its composition, once it dries, this material may be suitable to spread on the yard or improve the soil on a garden spot or a flower bed; it could also be used for fill around a building, a retaining wall or a seawall; it could also fill in that pesky gully out in the woods. We have also made a lot of it simply "disappear" by spreading it in natural areas and covering with ground cover. If you have no place for it, it can be hauled away.
We are the only company in the country advertising the ability to dredge and cut stumps from around your dock!
How may we be of service?
2018 Has been a big year for Siltbusters! Yes, we dig underwater ditches and pump mud, but even this humble service can benefit from innovation.
We have finally launched a new dredge boat that has been in the works for more than a year. This vessel has much more power than the old boat as well as a larger stronger pump, along with many other improvments developed from years of experience on the old boat.
To compliment the new boat and perhaps represents the biggest improvement to our process, is our Cyclone dewatering system. This allows dredging on lots that have no room for silt fences or holes, which are used to create sediment ponds, which are the traditional method of constructing a containment area. This portable hydro cyclone is the first of it's kind in this area and will open up our services to even the most challenging of locations. We have spent nearly a year building the platform and accessories to make it work, but this is truly a game changer! With the cyclone, we are able to get more material from the water we pump and return even cleaner water to the lake than we could using silt fences.

We also have the ability to load trucks or trailers if it needs to be hauled away.
Now with two vessels and two crews, we can now get to jobs faster than ever.